What a busy month this has been! I have been framing and
framing some more, and not painting nearly enough.


All with good reason, of course. I've been delighted that
my paintings, "Color Therapy" and "Avery" have been on display for the past month at the Dietrich Theater / Wyoming County Cultural Center in Tunkhannock, PA.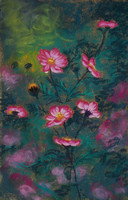 In addition, I just this past weekend got my entries completed and submitted for the annual Wilkes Barre Fine Arts Fiesta Adult Juried Exhibition.
Here are the five paintings I decided to submit...I'll find out in about a week whether or not any of them were accepted into the show.
I had a hard time deciding which five to submit. The final two came down to the "Quince" (below) and my "Gold Leaf" painting. I thought about posting a poll here on my blog to help me decide, but in the end, I simply e-mailed a few of my very good friends and supportive family members. The leaf and the quince were about tied, so
I framed them both. Suddenly, the decision was really easy! The quince actually seemed to move once it was framed. It was quite dramatic!
The leaf looks really cool in its frame, too. My husband, who is a pretty good woodworker, made a custom frame for it out of some beautiful figured ash, which swirls around the outside of the mat like an extension of the water the leaf is floating in. It adds to the tranquil, watery feeling
of that particular painting. I'll post a photo of the framed painting soon.
Anyway, I'll keep you posted on the results of my entries. Please keep your fingers crossed for me! Thanks!!